Selling Rhode Island Homes Steve Smith. To receive all of the follow free resources and get top dollar for your home in less time, simply fill out the form below with your name and email address, today.
Sell My Home In Cranston RI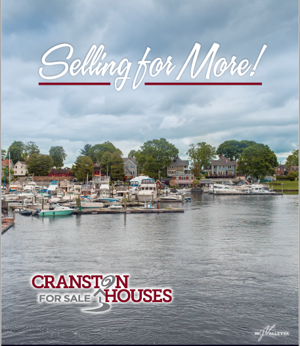 This is the best time to sell a home in Cranston, RI. Why? There is a pent-up demand - we have buyers that are currently looking for homes in Cranston, RI.
Less inventory pushes the sales price up for sellers in Rhode Island. If you have had thoughts of selling call Steve Smith right now.
We now have the lowest interest rates in history which is enticing more buyers than ever. Currently there are about 30% more CASH buyers.
Easy Exit Listing Agreement for homes in Cranston, RI
You aren't locked in to a long-term contract. You can "fire" us if we are not doing our very best. You aren't subject to any further obligations. You are in control of your listing timeframe. And we are HIGHLY MOTIVATED to sell your home fast! This Easy Exit Listing Agreement is satisfaction guaranteed. When you list your home with us, we take the pressure off you and put it on us. You are our employer and you have the right to "fire" us, if we aren't doing our best to serve you. There are never any hassles and absolutely no questions asked. You can cancel anytime.
Ask Steve Smith how to net up to 21.6% more when selling!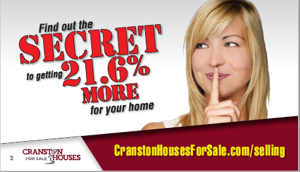 Wouldn't you like to know the secrets to getting the best price for your property? We want to help you by offering a free "selling for more PDF book" that has selling tips that could to get you up to 21.6% more for your home. FREE report that could net you up to 21.6% more! We have the selling secrets you've been looking for so let us help you write your very own seller success story.
Thinking of Selling? Find your house value now. It is fast and free!
Find out right now what your home value is using the power of technology. InstantHomeValueRI.com. We have selling secrets you've been looking for. Call (401)572-0335 today. Let us help you write your very own seller success story. Take the first step and get your HOME VALUE FREE INSTANTLY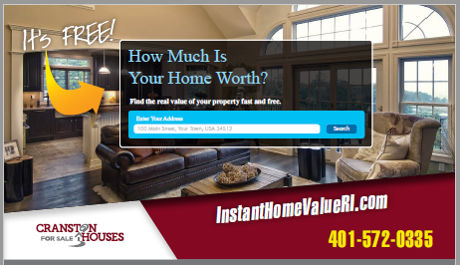 Our 101 Point Marketing Plan for homes in Cranston, RI
Our 101 Point Marketing plan for homes in the Cranston, RI area sells more homes, for more money, in less time. Inventory is down. Demand is up. NOW is the time to sell your home in Cranston and RI. We can help you position your Cranston and RI homes to sell. Less inventory means you can sell for more. To sell in less time, request our 101 Point Marketing Plan today. Just click on or call (401)572-0335.
We just SOLD another home in Cranston, RI in just 2 days!
Your home could be next! Now is the time to sell your home for more. We have buyers wanting to buy homes in RIGHT NOW, qualified buyers that are ready! High demand and low inventory means homes sell for MORE right now! If you are even thinking about selling, NOW is the time to take advantage of this Seller's market before it comes to an end.
To Get Your FREE VIP Seller Package & All of the Above...
3D Floorplans and Virtual Tours Get You More!!
Click on Photo To See Sample 2D & 3D Floorplan Virtual Tour
Steve Smith Proven Success
Sold For Full Price In Eighteen Days!
355 Hope Furnace Rd, Scituate a beautiful new construction colonial, that had been listed by the previous agent for eight months with no sale. Steve Smith listed the house at the same price as the previous agent and sold the house for the full asking price in eighteen days. Steve Smith's marketing efforts generated so much buyer activity that we also sold the unfinished house next door, built by the same builder, before it was even listed for sale.
Sold In Two Months At A Higher Price!
107 Normandy Dr, Cranston had previously been listed by two different agents for a total of twelve months with no sale. This seller was unable to relocate to another community to be with her new grandchild because of the twelve months that her home had gone unsold. Even though the house had a flat roof and no basement Steve Smith sold the house in just over two months and at more than 95% of the listed price. Steve Smith's selling price was higher than the previous agent was even asking.
Sold For Cash in Thirteen Days!
66 Dover Ave, East Providence had been listed by the previous agent for six months with no sale. This investor owner was losing thousands of dollars carrying a vacant house during the dead of winter. Even though Steve Smith listed the house in the middle of a middle of a miserable Winter we sold the house in 13 days at more than 96% of the list price to a cash buyer who closed 11 days later.
Sold In Twenty Eight Days And Moved To Larger Home !
30 Lark Ave, Cranston was listed for several months by the previous agent with no offers. The sellers had a growing family and had outgrown this two bed house and were unable to move because their house wasn't selling. Basic staging enhanced the feeling of space and the visual appeal of the home. As a result of these changes and the addition of a more aggressive marketing plan the house sold in 28 days and this young family was able to purchase the larger house their family needed.
Sold For 98% of List Price In Six Weeks!
55 Burdick Dr, Cranston had been listed for seven months by it's previous agent and no offers were taken. These long term owners had decided to simplify their lives by relocating to a rental closer to their out of state son. Their lives were on hold because they couldn't get their home sold. Steve Smith listed 55 Burdick Dr the week before Christmas on December 16. In the first six weeks we showed the house nine times. Steve Smith held an open house the week before New Year's on a Sunday that was 29 degrees and fourteen sets of buyers attended. By the end of January we had taken three offers and the seller accepted and offer that was 98% of the asking price.
Sold In Three Weeks!
174 Bend St, Warwick had been listed for more than eight months by it's previous agent. No offers were received. This retired seller's relocation to Florida was held up for months waiting for his house to sell. Steve Smith listed 147 Bend the day after the fourth of July. In the first two weeks we showed the house four times. The seller accepted an offer before the end of July that was more than 97% of his asking price.
Sold In Three Weeks At 99% Of List Price!
29 Vincent Way, Cranston had never been listed before. This seller had already bought a retirement home and didn't want to end up owning two houses. Steve Smith listed 29 Vincent Way the third week of June. In the first two weeks we showed the house eight times. Steve Smith held an open house the last Sunday of June and sixteen sets of Buyers attended. The following week the sellers accepted an offer of nearly 99% of their asking price.
Full Price Sale In Two Weeks In The Middle Of January!
1377 New London Ave, Cranston was previously listed with another agent and went unsold for eight months. These investor owners saw no end in sight after carrying a vacant house for eight months with their previous real estate agent. Steve Smith's marketing plan generated eight showings and three offers in the first two weeks resulting in a sale at more than the asking price in the middle of January.